A Good Deed: Jamming to some music with her headphones on, Karly Baker was hanging out on the swing in her backyard wearing just a bikini top and a scandalously short skirt. When a guy showed up with her ex-boyfriend's wallet that he had found, she had no interest in the wallet, but she liked the way his cock looked in his jeans. She unzipped his pants, knelt on the ground, and sucked his cock like she was starving and this was the first food she had in days. Moving inside, they hit the bedroom, he nearly ripped her panties off, and ate her shaved pussy then he rolled onto his back so she could get on top and ride. This sexy teen loves to fuck so she slammed herself down on him over and over before letting him put her on all fours so he could nail her doggy style. She came all over this total stranger's cock, making her lose her mind with pleasure. He made her cum twice, spanked her round ass until it was red, then let him hose her down, splashing his load all over her tits and belly. And she didn't even know his name!
My Best Friends Sister: In her hot, green bikini, hanging out in the pool, blonde hottie Daisy Lynne was having a relaxing afternoon at her brother's friend's place. Since she is away at college most of the time, they don't get to see each other so when he started rubbing her back and shoulders, she enjoyed the attention and affection. He reached around and gave her nice tits a squeeze as they kissed. She had always had a bit of a crush on him so she was going to jump at this chance to fuck him. They took the action to his bedroom where she showed that she had some serious oral skills before getting on top and riding him. His cock felt so good inside her she started moaning and sweating as soon as she took it deep. Begging him to fuck her hard, she rolled onto her back so he could drill her deep. Daisy came so hard she creamed all over his shaft then the naughty coed opened wide and let him bust a nut on her tongue.
After a Long Day: Sexy, petite Kristen Scott was in her skimpy bikini relaxing out by a friend's pool. When he got home from a long day, he told her he was going to make something to eat and invited her to join him. As he made a sandwich, she started flirting with him, untying her top so he could squeeze and feel her small, perky tits. The sandwich was forgotten when he set her on the counter and ate her trimmed pussy then he flipped her over onto her stomach and fucked her throat until his dick was rock hard and covered in her spit. Getting on top of the counter, he let her get on top and lose her mind as she came on his dick while riding him. He hammered Kristen's tight, wet pussy, making her cum so hard she squirted before laying her back and slamming her with long, deep strokes. Covered in sweat, they slammed their bodies together until he couldn't hold out any longer and came all over her tight, amazing ass.
Teach Me How: Adorable schoolgirl Maya Kendrick took a few cute selfies and sent them to this guy she liked. When she found out he might not be that into her, she decided to look him up online to find out more about him. Turning to her step brother for advice on guys, he offered her a few thoughts. When he found out that she didn't put out on her dates, he told her she had to be a little sexier. She stripped down to her underwear to show him her hot body. After showing him her hairy pussy, the hot redhead then let him know just what she was capable of when she clamped her mouth down on his hard dick and gave him some fantastic head. She knew it was wrong to fuck her step brother but he ate pussy so well she couldn't help but impale her pussy on his hard meat spike. It was a little kinky and a little wrong, but it made her cum hard as she rode his cock, taking every inch deep inside her dripping wet pussy. He slammed that pussy then came all over her bush telling her she fucks great, she just needs to do a little more of that with her dates and not her step brother.
Category: Teens, Small Tits, Big Cocks, Gonzo, Outdoors, Petite,
Starring: Kristen Scott, Seth Gamble, Maya Kendrick, Jay Smooth, Codey Steele, Cody Steele, Karly Baker, Daisy Lynne, Rob Carpenter
Language: English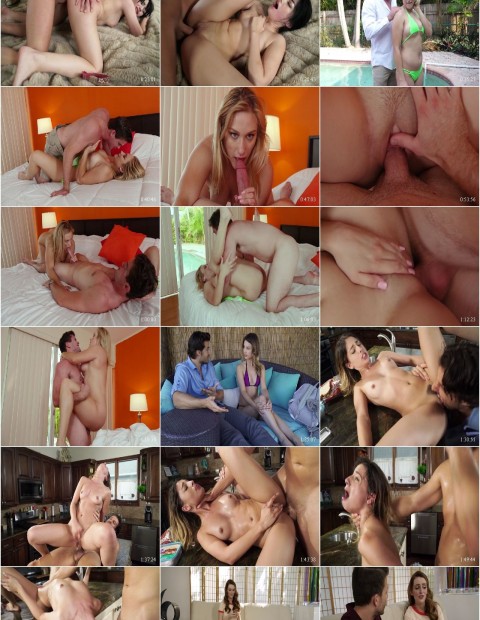 2:42:54 | 640×480 | mp4 | 1906Mb